The collection, hidden inside several warehouses and an empty church, was first discovered last year after a fire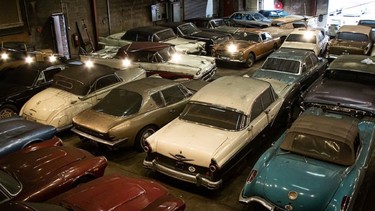 Article content
We apologize, but this video has failed to load.
Secret hoard of 230 classic cars in Holland set for auction
Back to video
Palmen decided to let the collection go, to car dealers Nico and Nick Aaldering, when his health began to deteriorate recently, says the report. The cars had been stored across a number of warehouses as well as in an empty church, and were generally a well-kept secret until last year, when a fire broke out at Palmen's largest warehouse. The quick response of local firefighters kept the cars from damage.
Article content
The cars are all in different condition, with some needing some dusting off and tuning up, as evidenced by some photos released by Gallery Aaldering; and others in nearly pristine shape.
"This collection includes cars that are very special," said Gallery Aaldering's head or marketing, Carlo Te Lintelo. "Like the Lancia B4 Spider America. Just to give you an idea, that car alone will sell for €600,000 to €700,000 [CDN$881,000 to CDN$1 million). They are very rare, only a couple of them were made."
Article content
The CNN report also highlighted blue-chip collector cars like a white Mercedes-Benz 300S convertible; a blue Ferrari 365 GTB/4 Daytona; as well as Maseratis, Aston Martins, and Facel-Vegas. While this paints Palmen as someone who appreciates European classics specifically, the lot list also reveals several interesting American cars, including a 1950s Mercury, Ford, and Packard; as well as a number of obscure, weird cars, like a Studebaker Avanti, NSU Ro80, and even a Tatra.
The "Palmen Barnfind Collection" will cross the block in the Netherlands on May 19, though bidders will able to participate in the auction online.