North American Electric Vehicles in tiny Oliver, B.C. is turning things up to eleven, thanks to battery power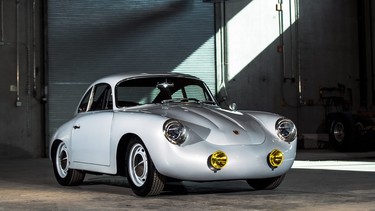 Article content
The Porsche 356 is a happy and delicate little car with a body like an upturned bathtub and a friendly goggle-eyed face. Based on the principles espoused by the Volkswagen Beetle, the car by 1965 was rocking a pushrod four-cylinder engine good for 95 hp. That's fine for the sixties, but slower than a Corolla today: fun, not exactly fast. This one, however, is packing a Tesla-sourced drive unit good for 636 hp. Straight out of Oliver, B.C., it's a tire-shredding electric outlaw Porsche.
Article content
"Turned up to eleven" is a shopworn Spinal Tap callback cliché in the automotive world, but it's the only appropriate phrase here. This custom build still looks like a frog-faced classic Porsche, but it has been lovingly crafted into a lightning-quick machine that could show clean heels to a brand-new Cayman GTS. It is deceptively simple and clean-looking, every hint of its potential performance tucked away behind gleaming sheetmetal.
"There's really no such thing as a kit," says Jeff Kotulak of North American EV. "It's not like we're building model airplanes here."
About that "turned up to eleven" bit: Kotulak cut his teeth in electrical engineering by building custom guitar amps. Making the switch to EV restomods wasn't as much of a leap as you might think — obviously the projects were a lot bigger, but the basics of working with electricity remained the same.
Article content
The first project wasn't really intended to be an EV-swap. Kotulak started a restoration project on a 1968 Porsche 911 Targa, and found that just getting the motor rebuilt was going to be a problem. The price of getting the flat-six engine back in order was sky-high, and that's assuming you were willing to wait.
"I started thinking, 'What else is out there?'"
Things expanded from there. North American EV (NAEV) has also completed full electric powertrain swaps into a 1991 AM General Hummer, and shakedown tests are planned for its 1948 Ford F1 pickup. Also under the knife are a 1967 Ford Mustang; and a 1964 Mercedes-Benz 230SL.
Is this 1961 Bentley the rarest car converted to an EV?

3 Canadian shops that will actually humour your classic EV conversion dreams
Article content
Battery-electric powered classics are all but guaranteed to get the purists crying heresy. The cars have lost their soul, goes the old argument. When combustion leaves the building, passion goes along with it.
Nuts to that. We're not talking about removing the V12 from a Ferrari 250 GTO, here; this is taking the raspberry-blowing four-banger that sounds the same as a 1960s Bug's and swapping it out for performance to pin your ears back. And has any Gulf War vet ever returned to praise the fun-to-drive performance and handling of a Humvee? Out with the diesel lump and in with a Tesla drive unit with lightswitch-fast torque response.
Of course, tastes differ, so EV restomods won't be for everyone. NAEV's builds certainly aren't, as each one involves a consultation process that extends to securing a donor vehicle, a ground-up restoration starting off with media-blasting and sheetmetal repair, and engineering of battery size and range to fit customer needs. NAEV employs seven people, including two upholsterers to get the details right. Everything's in-house, with the exception of required structural welding.
Article content
Basically, the process is similar to what "outlaw" Porsche builders like Rod Emory create at Emory Motorsports. These builds are commissions, and it's theoretically possible for NAEV to infuse any classic with electric performance.
Although Kotulak has some reservations. He notes that with the supply-chain issues, parts for more-common DIY restorations – think Mustang or Camaro – are hard to come by, with suppliers besieged by orders. And, speaking of Ford, he notes that the Blue Oval's current crate-engine electric powertrain is far from plug-and-play. It doesn't come with the required controllers or battery, so everything will require customization.
So, expect NAEV to be in the specialist build business, rather than any kind of mass-swapping of classics. If you're the pry-the-keys-to-my-V8-out-of-my-cold-dead-hands type, rest easy.
Article content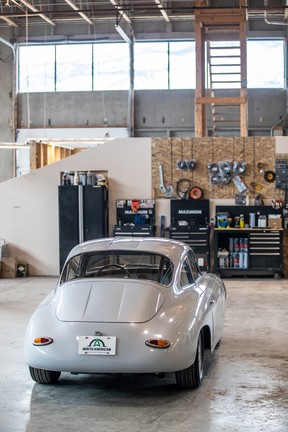 Similar EV custom builders have been popping up in the U.S., particularly in southern California. EV West, based near San Diego, recently build an EV-swapped Volkswagen Beetle for Ewan McGregor. But the population density of California already supports a host of classic-car-adjacent industries — if you need paintwork or seat-stitching, there's probably someone a few blocks away who can handle it.
In the Okanagan, talent is more sparsely spread out. NAEV's real potential, here, is that it is able to handle not just the physical installation of the EV powertrain components, but all the associated detail work to create something truly stunning.
Article content
Sure, 636 horsepower and a 32-kWh battery pack make for a lightweight and ravenously fast small sports car, especially with some 911-sourced suspension bits and Wilwood brakes to keep everything on the tarmac. But the hand-stitched Nappa leather, brushed nickel trim, and smoothed-out bodywork is what sets this 356C apart. How can you say anything with this much labour poured into it has no soul?
Just as with modern roads, a mix of powertrain availability brings greater flexibility to the classic-car community. This EV reinterpretation of the 356C will be fast and reliable, perhaps not for the type of owner who wants to tinker with their car, but for the one who wants their car ready to go on Sunday morning any time the weather's decent. And Oliver gets its share of sunshine.
EV restomods for some, little V8 lapel badges for others. Whatever side of the fence you're on, seeing a homegrown shop building projects that are as good as anything from south of the border is something to smile about. And even if you think gasoline runs in your veins, I defy you to punch the go-pedal in this overpowered little Porsche and not grin in delight.