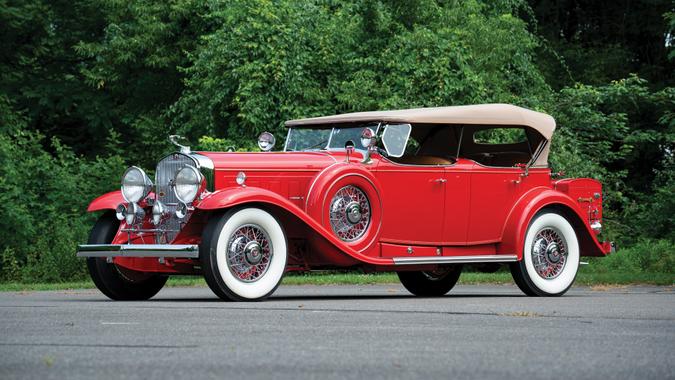 ©Erik Fuller ©2019 Courtesy of RM Sotheby's
If you're looking to turn heads on the road, wow audiences at car shows, or embark on the greatest restoration project of your life, there is simply no substitute for a great vintage automobile. People tend to use the terms "classic," "antique" and "vintage" interchangeably when talking about old cars, but those are actually three separate categories.
Check Out: 8 Best Remote Jobs That Pay at Least $50 an Hour
$2,000 Quarter? Check Your Pockets Before You Use This 2004 Coin
According to West Coast Shipping, which specializes in transporting custom vehicles, classic cars are more than 20 years old, antique cars are more than 45 years old and vintage cars were built between 1919-1930, after World War I and up to the start of the Great Depression.
It's important to note that those are general definitions. Car clubs, insurance companies and state DMVs often use their own varying classifications.
According to the American Collectors Community, vintage cars are exceedingly hard to find. They are either "survivor" vehicles, which still contain all their original parts, or are restored in conformance with the manufacturer's original specifications. They derive their value not only from their age, but from their condition, rarity and historical significance.
The Cost of Ownership and Restoration
Even if they're in tip-top shape, vintage cars don't get much road time. Many can't even run on modern unleaded gasoline containing ethanol, which can damage old vehicles, and they aren't particularly safe to drive.
Aside from that, vintage cars come with costs beyond their famously high purchase prices. According to CarsDirect, just prepping one for restoration — stripping the frame and chassis — can cost $15,000. Hard-to-find parts, which often have to be custom-made, can cost tens of thousands of dollars. Once you tally labor and finishing costs, you could easily spend more to restore a vintage car than you did to buy the car itself.
If you want to know what you might spend on one that's already been restored or a survivor in pristine condition, keep reading.
Take Our Poll: Are You Struggling To Keep Up With Your Utility Bills?
1919 Ford Model T Sedan
No conversation about vintage cars is complete without a mention of the car that started it all. According to Ford, more than half of the registered cars in the world in the early 1920s were built by Henry Ford. The vast majority were Model Ts, the world's first affordable mass-produced vehicle. The world's motorists purchased more than 15 million Model Ts by the end of the model's run.
In 1919, the Model T sedan became the first in the lineup with demountable tire rims and electric starters and the first without oil lamps. According to the Model T Ford Club of America, they were the most expensive Model T of the year. The 1919 sedan cost $875, compared to $525 for the most popular Touring model.
According to Hagerty Broker, you can get one in top condition today for $27,700, making the '19 Model T sedan one of the more accessible vintage cars on the market.
Duesenberg Model A (Any Model Year)
The Duesenberg brothers rose to fame during and after World War I by building world-class cars that they raced themselves. They didn't truly hit the big time, however, until they introduced the world to the Duesenberg Model A in 1919. According to Supercars.net, only a couple hundred were ever made, most of which were customized with luxurious stylings and coachwork.
Throughout the '20s, Duesenberg continued to improve on the Model A, which would become the first car to offer a supercharger. Among its many impressive victories that decade were three first-place finishes at Indianapolis.
A 1926 Duesenberg Model A Sedan D64B sold for $176,000 at auction. A 1925 Duesenberg Model A Millspaugh & Irish Touring 988 sold for $253,000. A 1924 Duesenberg Model A Speedster sold for $258,500.
1930 Cadillac V-16
Formed in 1902, Cadillac is the second-oldest U.S. automaker behind only Buick.
In 1930 — the last year of the vintage era — Caddy shocked the luxury automobile world with a gargantuan ultra-luxe 16-cylinder class-defining sensation at that year's New York Auto Show.
Its 452 cubic-inch V16 engine generated 175 horsepower, and thanks to its 320 foot-pounds of torque, it was remarkably smooth and quiet. It was the first true V16 — according to Sports Car Market. Bugatti had done it previously by bolting together two inline eights.
It wasn't just power. Every inch was detailed with stunning luxury. Prices ranged from $5,350 to $9,700 at a time when new Fords were still to be had for less than $500. Today, $9,700 in 1930 money is worth a little more than $168,000 — but even that is a bargain compared to what you'd pay to get behind the wheel in 2022.
Hemmings is currently listing a 1930 Cadillac V-16 Series 452 all-weather Phaeton with coachwork by Fleetwood for $267,500.
1925 Rolls-Royce Silver Ghost
In 1907, the prestigious Autocar publication anointed the Rolls-Royce Silver Ghost as the "best car in the world." Produced for two decades between 1906-26, the Silver Ghost proved its reliability when its designers drove it continuously for 40 days and 40 nights, covering 15,000 miles along the way, according to the St. Augustine Record.
Unrivaled in power, dependability, luxury and elegance, it was perhaps the most coveted status symbol for the ultra-rich in the early auto era at the turn of the 20th century.
PreWarCar.com is currently listing a vintage 1925 Rolls-Royce Silver Ghost London to Edinburgh Tourer for 380,000 pounds, or about $433,677, but pre-World War I models have sold for $3.5 million or more.
1929 Mercedes-Benz 680S Torpedo Roadster
The Mercedes-Benz 680S Torpedo is a low-slung roadster that MotorTrend says "represents a high point in luxury vehicle development." Built in 1928, it debuted at the 1929 New York Auto Salon. The wife of a brass-industry millionaire commissioned the vehicle after World War I. However, that family's fortunes changed after the crash of '29, and an industrialist named Frederick Bedford wound up buying the supercharged 7.0-liter straight-six 180-horsepower royal carriage on wheels. [19]
Although it was designed by a Parisian coachbuilder named Carrosserie J Saoutchik, it was a German vehicle that was one of the first and finest creations of the 1926 marriage between  Daimler and Benz. According to Sotheby's, only three short-windshield examples were ever built, and the only known survivor fetched $8.25 million at auction in 2013.
More From GOBankingRates