Complete 'tuck and roll' custom upholstery job cost longtime owner just $145 in Tijuana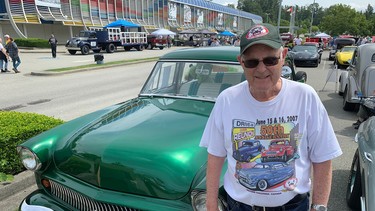 Article content
Not many people have owned their cars longer than Bob Hebron. He bought his 1952 Ford sedan from his father when he was 17 years old. That was in 1958. The retired Safeway employee still owns the car that he turned into a full custom car in stages as the money became available. When his father brought home a new 1958 Chevrolet, Bob Hebron bought the six-year-old two-tone blue family Ford for $600.
Article content
We apologize, but this video has failed to load.
Collector Classics: 1952 Ford sedan
Back to video
Custom cars and hot rods were all the rage in the late-Fifties and Bob was a member of the Dragons Car Club. The club had its own clubhouse just off East Hastings Street in North Burnaby where the members hung out and modified their cars. Bob has chronicled the history of his 70-year-old Ford with photographs and receipts for the work he had done to the car.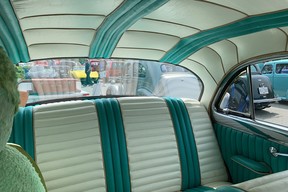 In the spring of 1961, Johnny's Auto Metal began the customizing of the Ford sedan by nosing and decking the car. That is, removing the chrome ornamentation from the hood and trunk in custom car parlance. Chuck Chapman, one-time president of the Dragons Car Club, took over customizing the car by adding 1955 Packard taillights, rounding the hood corner and constructing a new grille shell to house a custom grille. Electric door and trunk openers were added. Taylormotive Service in North Vancouver painted the Ford in bright green for $600.  The Ford was repowered with a chromed up full race 265 Chevy V8 engine.
Article content
To complete the custom job on his Ford, Bob and two friends drove to Tijuana, Mexico where Avila Upholstery did a complete tuck and roll interior in green and white in one day. Everything from carpets to headliner, door panels to seat covers cost $145.
"Dad didn't like what I did to his car," the 81-year-old recalls. "He thought I should have left it alone."
Over the ensuing decades, Bob Hebron's 1952 Ford has earned dozens of awards and trophies. He bought and drove other cars including a 1958 Pontiac Parisienne convertible and a new 1967 Pontiac powered by a 427 cubic inch engine with a four-speed transmission.  But he kept his Ford custom car and it is just as it was when it was customized 60 years ago including the $140 custom tuck and roll interior done in Tijuana. In 2014, Bob had custom car builder add dual sunken aerials in the right rear fender. The car was repainted with ghost flames and shading.
Article content
Every year, he takes his car to the BC Hot Rod Association car show where it is displayed with its history and some of the many trophies it has earned over six decades.
"It gets a lot of attention at car shows and brings back a lot of memories of the custom car era," he says.
Alyn Edwards is a classic car enthusiast and partner in Peak Communicators, a Vancouver-based public relations company.