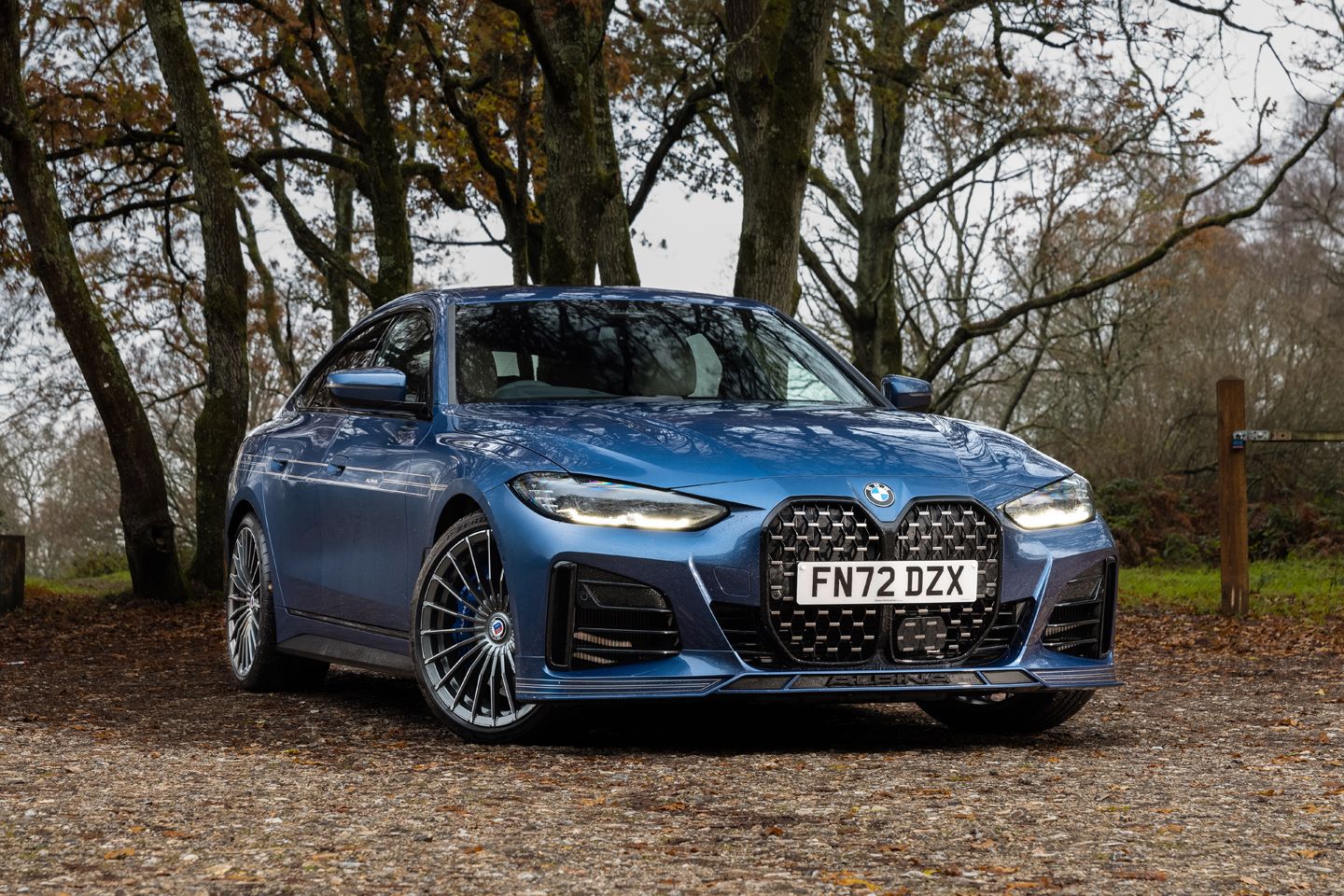 We drove Alpina's wholly persuasive take on the 4 Series Gran Coupe not so long ago. It returns this month with two noteworthy alterations. One, the grille has been tastefully (and mercifully) optioned in understated black; two, the 3.0-litre straight-six petrol motor has been swapped out for the rumbly charms of BMW's equivalent oil burner. The new D4 S is slower, heavier, and, given the societal noose slowly tightening around the neck of diesel engines generally, certainly the less popular option. It is unlikely to be a common sight in the UK, not with prestige hybrid models supplanting compression ignition at a rate most grey squirrels would think overzealous. 
How times have changed. Two decades ago, the prospect of a black pump-sucking 355hp straight-six in a swish BMW fastback would've warmed the cockles of any put-upon car magazine staffer. Back then, of course, Alpina's reworked diesel engines were regarded with something like wonder, appearing as they did among innumerable HMRC-friendly, four-cylinder clones. More often than not, the tuner's handiwork promised power and parsimony in unrivalled measure, bettering even BMW's high benchmark for the kind of performance one could expect from a car distinguished by a 'D' in its badge. 
Fickle legislation and public opinion might have steered righteously away from diesel, yet (not for the first time this year) the D4 S's voracious 3.0-litre unit provides ample opportunity to marvel at its fall from favour. Granted, it's not new – this is the same breathed-on B57 motor that features in the Alpina D3 S – and its output is unchanged. But it does its thing so splendidly that you forgive its broadly familiar, big-chested chug. In fact, short of driving the D4 S back-to-back with a fully-charged Porsche Taycan, its ultra-amenable, low-key charm is probably going to wash over you like a second saucepan of mulled wine.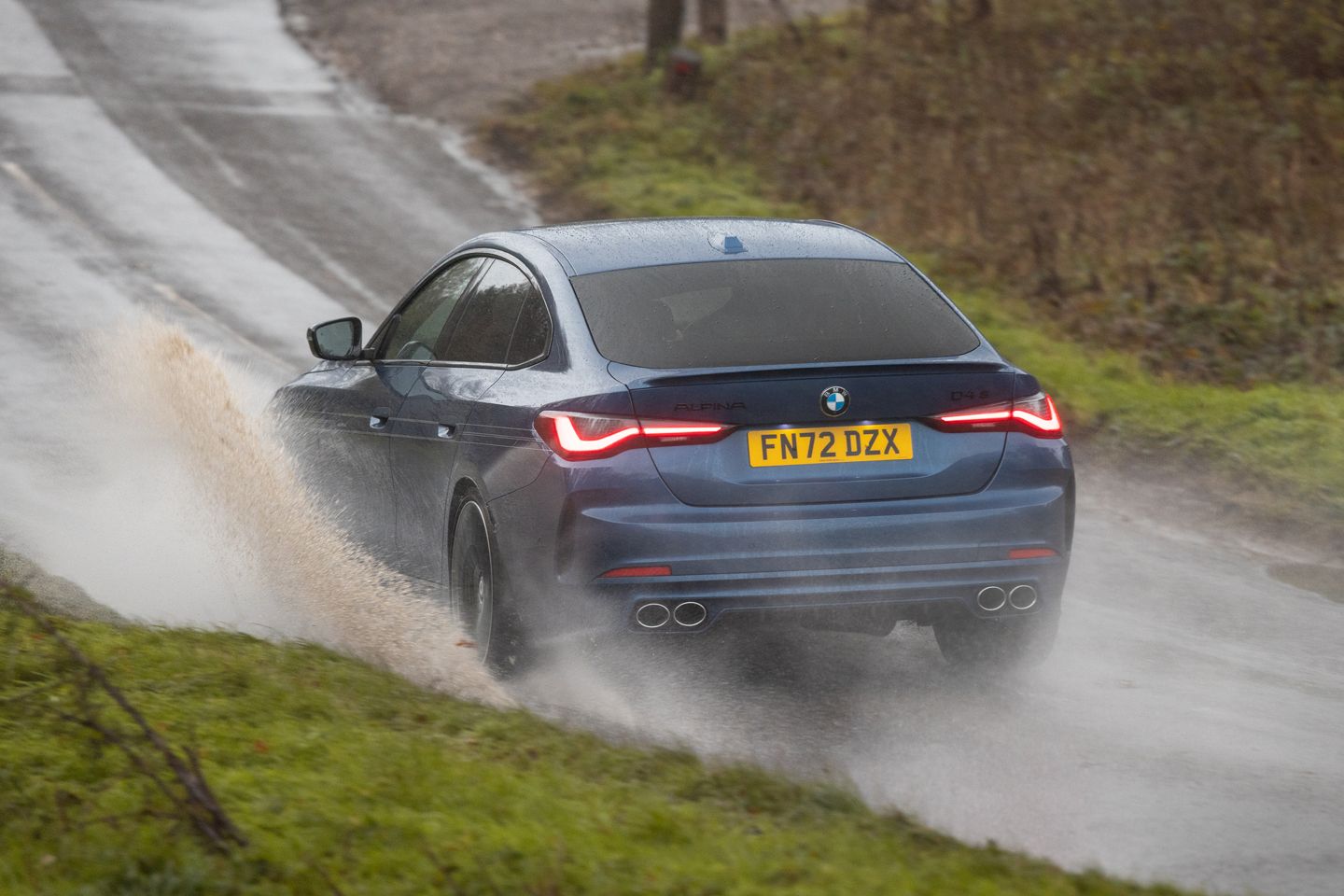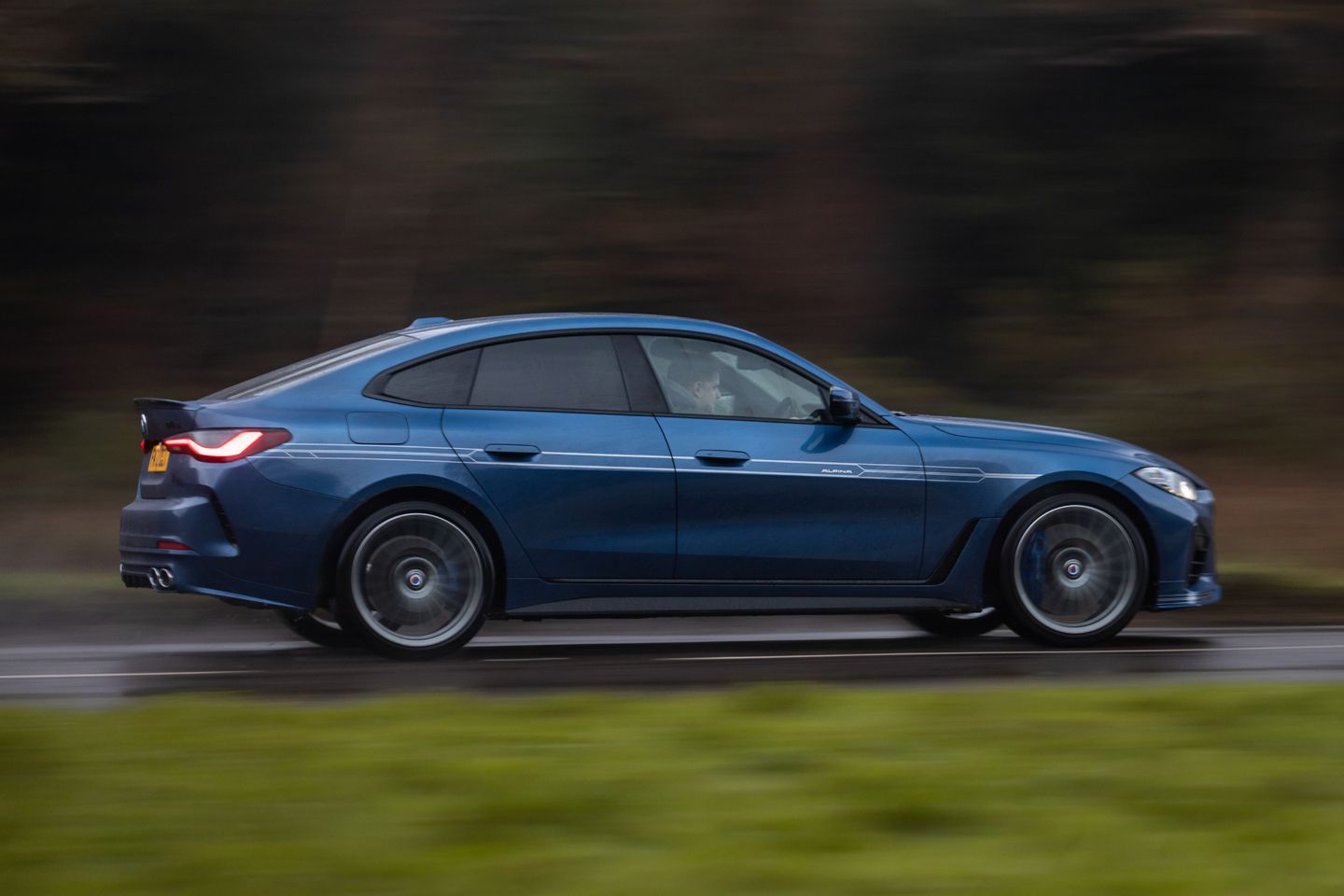 There are several good reasons for this. There is the enlivening presence of 538lb ft of shove at 1,750rpm, for one thing. Alpina has traditionally regarded torque as the ideal balm to the tiresome chafe that is modern-day driving, and, as it has proven elsewhere, the B57 generates it on an industrial scale. The B4 GC did this too, of course, but in the petrol-powered model you're inevitably encouraged to chase engine speed, with 495hp located beyond 5,000rpm. In the D4 S, you remain happily camped in its prolific mid-range, generally uninterested in what might be at the summit thanks to the ever-attentive ZF automatic and impressive throttle response. 
Granted, there's no crisp satisfaction to be had from flicking through the gears like there is in the B4 – but there's no suspicion of abrasiveness at low speed, either, or the lingering impression that Alpina has been forced to gently muzzle the M3's ferocious six-pot in the pursuit of better refinement. The B57 is unmistakably a diesel engine in its delivery and distant clamour – and would obviously suit an M car about as well as welly boots do Kylian Mbappé – yet it succeeds wonderfully at the much subtler job of being a buttoned-down Alpina. 
As ever, it helps that the car around it is sensationally well-targeted at the same objective. The tuner's unshakeable conviction that purposeful handling needn't compromise absorbent ride quality is once again to the fore. Whatever suspension settings Alpina has ordained for the slightly weightier D4 S, they work superbly well – to the extent that it might even shade the level of comfort offered by the B4. Gnarled B roads, of the sort to seriously hinder a hunkered-down fast saloon, are smoothed into insignificance by its glossy wheel control. Meaning you go faster, for longer, happier.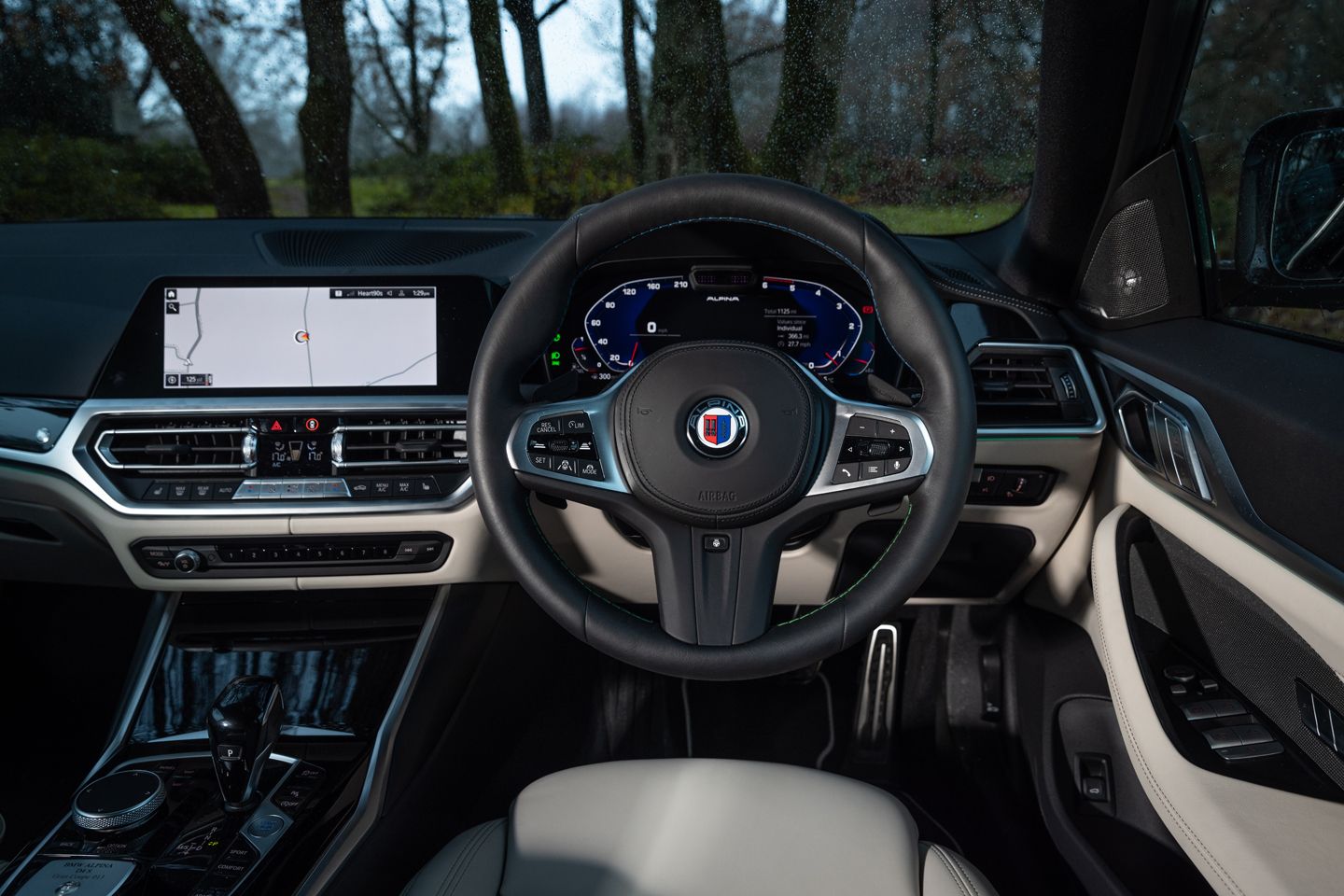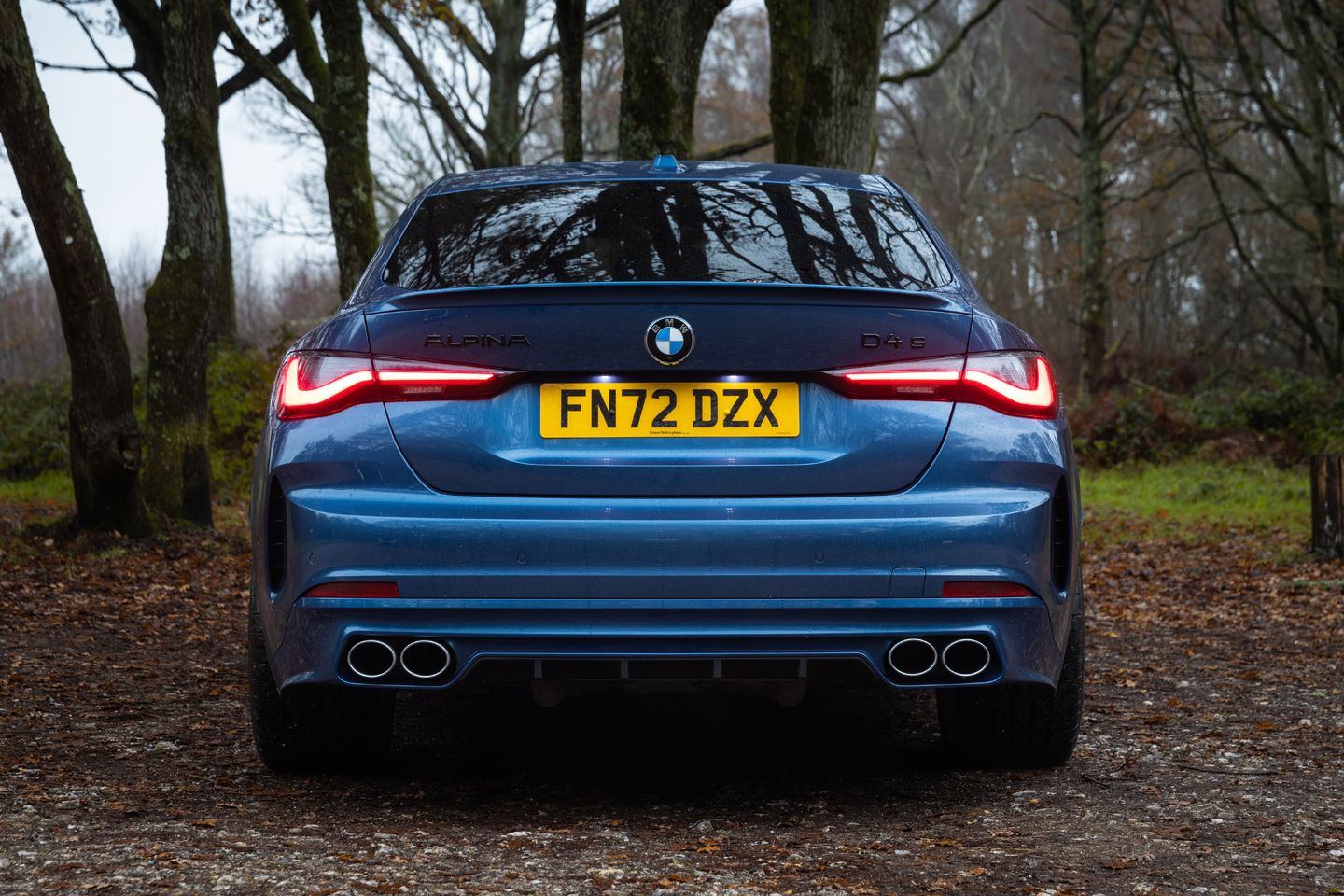 Much like the B3 Touring we drove earlier this month, the happiness is located not just in the D4 S's capacity for filtering out intrusive jolts, but leaving in a tangible connection to the road surface. You feel cleverly isolated by the adaptive chassis, never detached. And while the change of direction isn't as honed or as precise as it would be in an M car, the rear-bias all-wheel-drive system and sinewy steering mean it's not much less gratifying at eight-tenths – exactly the sort of fast road speeds Alpina is hoping to excel at when it takes BMWs apart and thoughtfully puts them back together again. 
Coincidentally, it's also the kind of real-world, in-gear performance the beefier B57 revels in. With no thrilling red line to hunt down – or even a meaningful manual gearshift to make – you settle into precisely the kind of imperturbable flow that underlines the car's dynamic finesse. Throw in a predictably upmarket interior and the same primped bodywork as the B4, not to mention the liftback boot lid that nudges overall practicality up a notch, and you're left with quite the riposte to any number of high-priced petrol-electric options. It'll even average 40.9mpg if you give it a fighting chance. 
Obviously, none of that means it'll turn back the rising tide. The majority of buyers will barely register the D4 S, and even among oil-burning devotees, the £8k difference in starting price between it and the really rather good M340d might seem hard to justify. Having said that, BMW doesn't sell the M440d in Gran Coupe format (or not currently in the UK, at any rate) which does rather amplify the D4 S's nonconformist, Q-car appeal. Moreover, the deeply felt contentment it tends to evoke in its driver is a rare commodity even among luxury carmakers. Additional evidence of Alpina's deep understanding of its owners' priorities, yes – but also a compelling reason to grab one while you still can.
SPECIFICATION | 2023 ALPINA D4 S GRAN COUPE
Engine: 2993cc, six-cylinder, turbocharged
Transmission: Eight-speed auto, all-wheel drive
Power (hp): 355 @ 4000rpm
Torque (lb ft): 538 @ 1750rpm
0-62mph: 4.8 secs
Top speed: 168mph
Weight: 2020kg (unladen) 
MPG: 40.9mpg
CO2: 182g/km
Price: £65,700 (£81,910 as tested)