The Jeep Grand Cherokee L is a conduit for both adventure and the mundane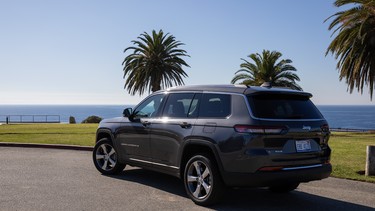 Article content
The temperature in Los Angeles rarely rises above 33°C and rarely falls below 15°C. The seasons are mild and the skies are generally cloudless year-round. It's not the most interesting weather, but it sure is nice. That said, not everyone wants nice. Some would say nice is just a polite way of saying bland. Hardship has a way of making the good times more memorable, but makes one appreciate normalcy that much more. As bellwethers of personality types, I'd say this is, as psychologists might say, a leading indicator.
Article content
We apologize, but this video has failed to load.
SUV Review: 2023 Jeep Grand Cherokee L
Back to video
Painted in Baltic Grey Metallic (a $345 option), the colour of the 2023 Jeep Grand Cherokee L was as mild as the 3.6L Pentastar V6 underhood. It's certainly not as sexy as the ritzy Grand Wagoneer Series III with its 6.4L V8 and ornate wood inlays.
Article content
Redesigned for 2021, the Grand Cherokee L bridges the gap between the standard Grand Cherokee and the Wagoneer. The wheelbase has been increased by 12.7 cm and the L is 29 cm longer than a standard Grand Cherokee. Inside of that extra length, Jeep has fitted a third row seat. With it up, the L offers 487L of storage space. That's about enough for two carry-on bags and a backpack. Fold the third row down and you get access to 1,328L of storage which is 20 per cent more than you'll find behind the second row of the regular GC. If you fold the second and third row seats down you'll have a full 2,396L of storage space which is 17 per cent more than its standard wheelbase cousin.
Those extra inches do come with extra poundage. The Jeep Grand Cherokee L (Or JGCL, if you will) is rated at 13.0 L/100km city and 9.4 highway. For reference, the non-L is rated at 12.3 city, 9.2 highway. Those numbers are about on par with the smaller Honda Passport.
Article content
Recommended from Editorial
Jeep Grand Cherokee L vs Grand Wagoneer: Which model and trim should you buy?

Interior Comparison: 2022 Jeep Grand Cherokee Summit Reserve vs Genesis GV80 Prestige
As I drive the GCL down the coastal highways just south of Los Angeles, the sun plays off the rolling waves of the Pacific which travelled some 8,000 km to get here. The weather is a goldilocks middle ground of perfection. I would roll down the window and hang my elbow out the sill but the GCL has some of the worst wind buffeting I've experienced in a new car. Above 60 km/h, the wind noise is simply intolerable — a bummer for a car that seems so given to road tripping.
Article content
Otherwise, the JGCL cabin is one of sublime comfort. The seats are well-shaped to resist driver fatigue and the well-shaped steering wheel meets your hands in all the right places. Handy storage places abound and the L seems equally ready for a weekday commute or an excursion to another time zone. Our tester is a Limited trim model which includes heated front/rear seats, selectable terrain specific traction control, power liftgate, and six-speaker premium audio. The interior is offered in two colours and I would have much preferred the available beige interior over black. There's a lot of black inside and it can get a little cave-like. Interestingly, you can spend an additional $1,195 for a nine-speaker stereo if you really like your tunes. My test car had the standard stereo and it sounded good, but didn't blow me away like a true premium system, such as Cadillac's AKG.
Article content
The JGCL starts at $58,240 which is exactly $2,000 more than the non-L version. The top trim is the Summit Reserve at $85,240 and our Limited tester starts at $66,240.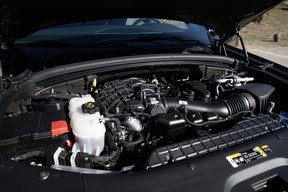 Underhood you'll find the venerable 3.6L "Pentastar" V6. In this iteration, it makes 293 hp and 260 lb-ft. If this engine were a colour, it would be grey. The L is neither overpowered nor underpowered. Like the L.A. clime, it's just right in the middle. If you opt for the $995 Trailer Tow Package, the JGCL is rated to tow 6,200 lbs — good enough to haul a project car home or tow around most bass boats.
The Jeep Grand Cherokee L is much like a sunny Los Angeles day in that you can do anything with it. Just as another sunny day brings options of hiking, lounging on the beach, or a day spent on a warm patio, the JGCL is a conduit for both adventure and the mundane. It's entirely capable of mastering your weekly workaday activities in comfort or it can take you to the cottage while towing a boat. What you choose to do with it is entirely up to you.